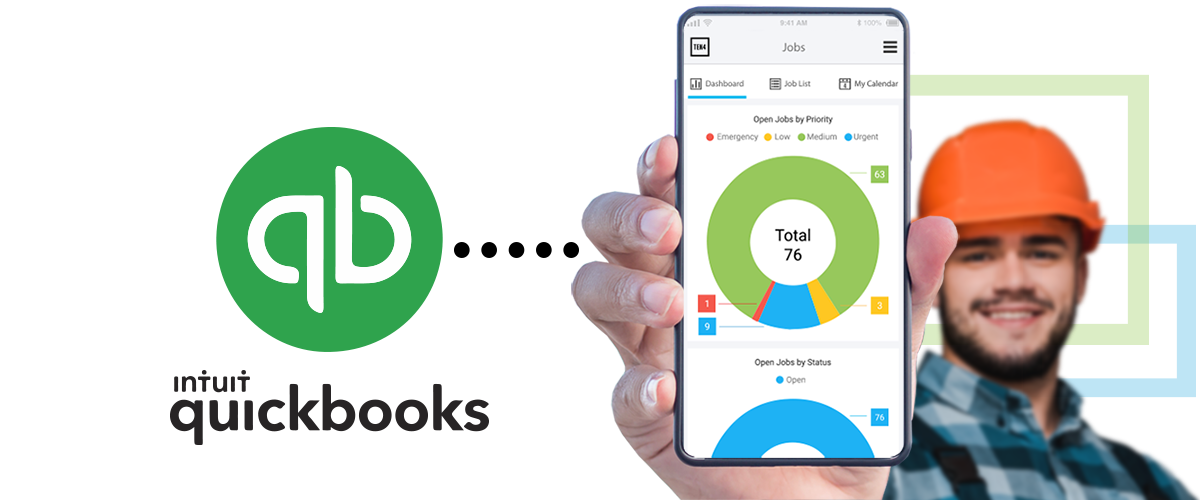 TEN4 manages your service and syncs directly with QuickBooks Online to provide you with a seamless field service solution.
FREE TRIAL
Field Service and Dispatch Software for QuickBooks Online
Sync customers, products & services, plus estimates and invoices
TEN4's field service software stays seamlessly synced to QuickBooks, so you can eliminate double-entry and human error, while being sure your accounting and service management software are always up to date.
Service billing is automatically calculated
Track labor, travel, mileage, parts, billing rates and all charges for each job. Allow technicians to generate the service invoice after job completion with the touch of a button, or do your service billing from the office for full control over invoice creation.
Create and manage customer contacts and service locations
Managing your customers information is easy when it's synced between TEN4 and QuickBooks. Changes made to your customer information in one system will automatically update the other, keeping both up to date.
Easily create sales quotes and service estimates from the field or office
Integrated with QuickBooks' item lists of products and services, a TEN4 quote will automatically create an estimate in QuickBooks. Estimates can be converted to a new job once approved by the customer or converted straight to invoice.
Have a clear view of your inventory with TEN4 Field Service Software & QuickBooks
Synced to QuickBooks Online, TEN4 give you a clear view of available inventory, automatically deducts parts used on a job from your QuickBooks inventory and ensures proper billing for every part.
Easy to set-up integration
Because TEN4 is integrated with QuickBooks Online, your customers, products and services are automatically available when you start. Our start-up wizard takes you through a couple of quick steps and you're ready to go!
Looking for a great field service software for quickbooks?
TEN4 is easy to use, configurable to your business and can be set-up with just a few easy steps.
Try it for yourself free for 14 days.